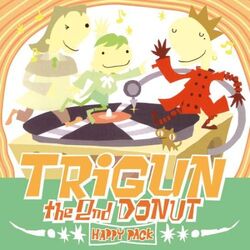 Trigun: The 2nd Donut Happy Pack is the second soundtrack for the Trigun series.
Music List
Edit
ラヴ&ピース (Love and Peace)*
Nerve Rack
楽園 (Rakuen)
ウエスト·スラング (West Slang)*
Unhappy Song
黒猫空間 (Kuroneko Kūkan)*
Colorless Sky
トライガン·マキシマム (Trigun Maximum)*
Hash Hash
Lost Planet
Blue Spring*
H.T. (Destoyingangel mix)
Zero Hour
Insurance #1*
The Lowdown
Insurance #2*
Gunpowder Tea
Insurance #3*
Cheers!
Scattered Rain
ピアス (Pierce)*
Blue Summers
砂の星 (Suna no Hoshi)
All tracks that have an asterisk after the name are audio dramas.
Ad blocker interference detected!
Wikia is a free-to-use site that makes money from advertising. We have a modified experience for viewers using ad blockers

Wikia is not accessible if you've made further modifications. Remove the custom ad blocker rule(s) and the page will load as expected.