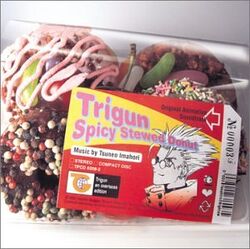 Trigun Spicy Stewed Donut is a compilation of Trigun: The First Donuts and Trigun: The 2nd Donut Happy Pack.
Music List
Edit
H.T.
No Beat
Big Bluff
Unhappy Song
Philosophy In A Tea Cup
Cynical Pink
Nerve Rack
Zero Hour
Knives
Permanent Vacation
Blue Funk
Yellow Alert
Carot and Stick
Suna No Hoshi
風は未来に吹く (Wind Blows In the Future)
Ad blocker interference detected!
Wikia is a free-to-use site that makes money from advertising. We have a modified experience for viewers using ad blockers

Wikia is not accessible if you've made further modifications. Remove the custom ad blocker rule(s) and the page will load as expected.